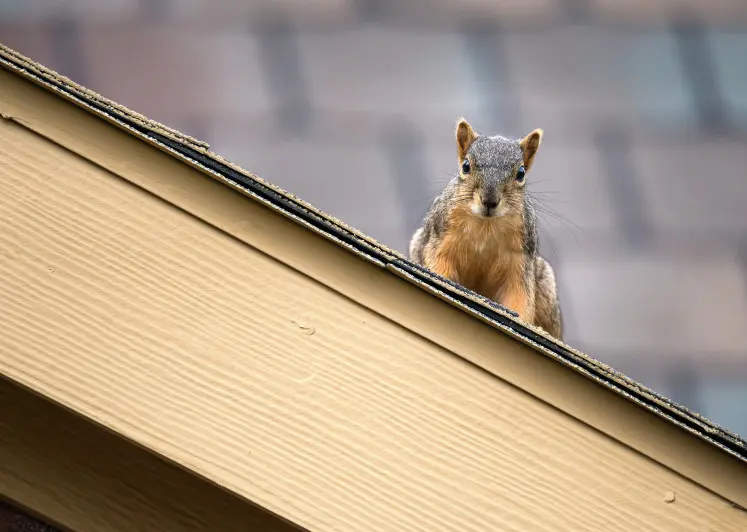 When it comes to Denver roofs, the peskiest rodent that invades them is squirrels. They are exceptional climbers and have the ability to leap from nearby trees right onto your roof. Not only a nuisance outside your home, but they may also chew through roofing to enter your attic and nest there, causing even further damage indoors.
Squirrels can wreak havoc on your roof and cause the need for repairs. The good news is that Refined Exteriors offers reliable roof services in Denver to fix squirrel damage.
Read on and learn the simple steps you can take to prevent squirrel damage in the first place.
Signs of Roof Damage Caused by Squirrels
Various home exterior materials are no match for a squirrel's razor-sharp teeth. They gnaw through them and open your home up for damaging moisture intrusion.
Squirrels may look cute scurrying around atop your backyard privacy fence, but inside your home, they're a different story. They create holes in roof shingles, gnaw on your roofing materials, and make their way indoors—to do more damage.
1. Attic damage
Your attic offers the perfect home for squirrels to nest in and even reproduce: it's accessible, and if they can go undetected, it's secure. Squirrels may tear up your insulation and damage items you have stored in your attic. 
2. Moisture damage
When squirrels make their way into your home, they leave holes behind that leave your home vulnerable to water damage from rain or snow.
2. Electrical wire damage
Vigilantly keep your eye out for chewed electrical wires in your attic. When squirrels chew on wires, they create a fire hazard. One little spark could set things ablaze. 
3. Damage to roof vents
Other vulnerable areas of your roof include your roof vents and chimney. Squirrels can often chew through and slip inside your home.
4. Damage along your roofline
Additional evidence you have squirrel damage is when you notice the destruction of fascia boards, wood beams, eaves troughs, and more—along your roofline. 
5. Gutter damage
If you spot squirrel damage to your home gutter system—including its downspout—address it promptly to keep them from entering your home.
6. Additional damage occurs if left untreated
If you realize you have squirrel damage inside or outside your home, contact a roofing contractor quickly to avoid further harm.
How to Thwart Squirrel Roof Damage
There are preventative measures you can take before or after squirrel damage is detected.
Regularly inspect the things squirrels target most
Regularly check your home's roof, edges around dormers, and areas around your chimney and roof vents. Additionally, make your way into your attic, and check your gutters for any evidence of squirrel damage. Perform these inspections as part of your seasonal yard work, and you're well on your way to avoiding squirrel damage. If you spot problems, get in touch with a reputable roofer to avoid additional damage.  
Prune mature trees and shrubs that are near your home
To make your home unattractive to squirrels, prune trees so they can't climb them and launch themselves onto your roof. Trim bushes and shrubs that are in close proximity to your home. Make it tough for them to try to climb up your siding and onto your roof. Keep bird feeders away from your home exterior. Squirrels like them, and they entice them to come near your home and make their way up onto your roof.
Install a drip edge on your roof
A drip edge is a piece of metal that slides under your first row of shingles. It hangs over the edge of your fascia. It helps water drain into your gutters. A drip edge makes it tougher for a squirrel to get between your shingles and your fascia. (When a squirrel peels up a shingle, it can chew its way through your roof decking and into your attic.) A roofing contractor (like us!) can install a drip edge as part of a roof repair. You don't have to get a full roof replacement to get the protection of a drip edge. 
Clean your gutters!
If you don't have gutter guards to protect your gutters from gathering debris, clean them out regularly. Why? Because they offer an ideal place for squirrels to build a nest. They fill up with leaves and twigs—the things squirrels love most for their nests. If your gutters stay clogged with debris and squirrels make their way to them, if left unaddressed, a squirrel could burrow its way through your soffits or fascia and into your home.
Remove any squirrels from your home interior
If you detect a squirrel in your attic, contact an animal removal service to develop a safe way of evicting them from your property. Promptly seal up the access point the squirrels found to your home to prevent additional damage. 
Trustworthy Roof Repair and Replacement in Denver
At Refined Exteriors, we are a local, dependable company who repairs damaged roofing and replaces it as needed. Every product we use on your home has been engineered and tested to bring maximum value and strength to your home. 
Our GAF roof replacements come with a GAF System Plus Warranty, so you get a 50-year non-depreciating warranty. (This includes the full cost of material and labor for any material defects on every roof we replace!) We also offer self-healing F-Wave Synthetic Shingles that stand up to hail, wind, and fire, and come with a Weatherforce Advantage warranty. Take a moment to learn more about our roofing services.