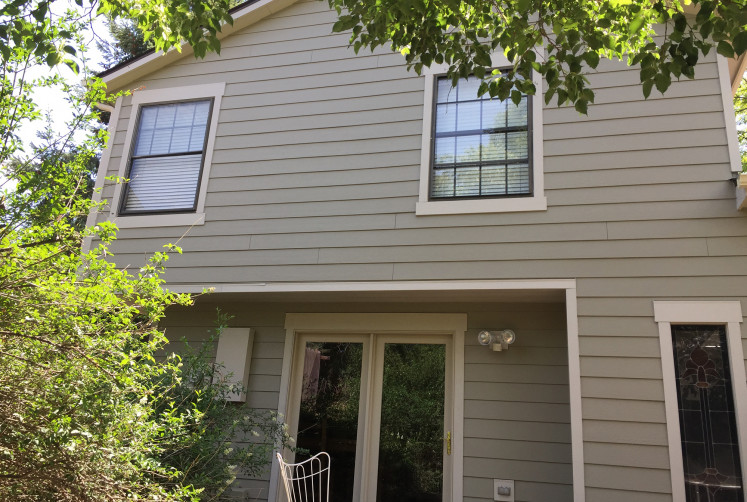 Location: Centennial, CO
Renovations: James Hardie Siding Replacement
A Centennial homeowner needed a total exterior remodel due to a lack of upkeep and major woodpecker damage. The original builder had not ensured that the siding could properly shed water, causing wood rot. But it was the woodpeckers that had caused the worst destruction. The industrious creatures had targeted the exposed, aging wood, in some cases creating holes that went all the way through the siding.
The homeowner met with several contractors but chose Refined Exteriors because she appreciated our professional recommendations and felt confident in our workmanship. At our initial meeting, we recommended James Hardie siding to restore the exterior and keep it damage-free.
Beautiful, Woodpecker-resistant James Hardie Siding
Once the customer chose to work with Refined Exteriors, we performed a thorough walk-through to discuss design and color ideas to match the current façade. We also recommended custom trim to add emphasis and character to the windows. After a thorough consultation with our experts, she chose James Hardie siding with low-maintenance Hardie ColorPlus Technology in Monterey Taupe and Cobblestone trim.
As we removed the old siding, we learned that the damage was much worse than we had thought. The sheathing had absorbed significant moisture, and there were 13 woodpecker nests — some with live birds in them — inside of the siding. While the homeowner did not wish to share her home with the uninvited avian guests, she also didn't want to see them harmed. Our contractors gently moved the nests, keeping them fully intact, and relocated them to a safe spot away from the construction site. The customer was especially appreciative of our crew's compassion and understanding.

"Refined Exteriors undertook a complete exterior remodel on our property. This included roofing, siding, a porch deck replacement, and fencing. All of the work that they did was of a high-quality finish and when there were small issues, they were quick to address the issue. They worked tirelessly to make sure that we were satisfied with their work at all times and were very communicative, responsive, and friendly."
-Christopher Y.
An Enthusiastic Endorsement for Refined Exteriors
The customer couldn't have been happier with the results. "Refined Exteriors did such beautiful work on my James Hardie siding project," she said. "This is a great group of people to work with, and I would recommend them to everyone."
One year later, our crew returned to do more work for this Centennial homeowner. She was still thrilled with the new siding and was pleased to report that the woodpeckers had not returned.
Refined Exteriors is an exterior home remodeling contractor with many happy customers in the Denver area. Our experienced team will provide you with the highly skilled workmanship and premium products you should expect when you make a large investment in your home.
---
Project Gallery