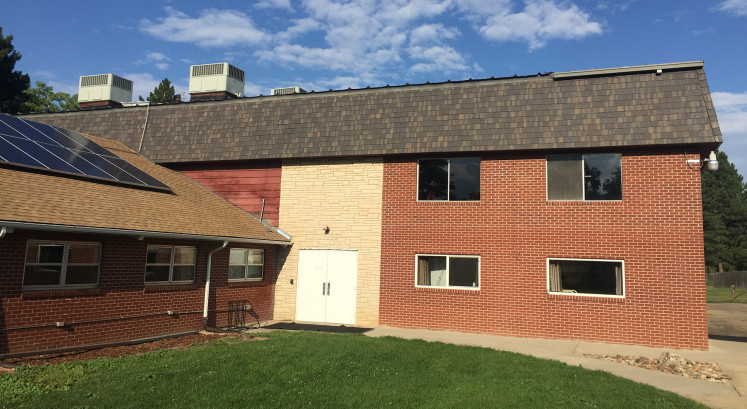 Location: Boulder, CO
Renovations: Roof Replacement
A Boulder religious congregation needed a full roof replacement after years of wear had rendered it dilapidated and unsightly. The wood shake shingles were failing in multiple areas. Individual pieces had curled and were falling off the building, leaving it susceptible to water intrusion. In addition, the deterioration was detracting from the building's overall appearance.
The congregation's facilities manager reached out to several local roofers for bids, including Refined Exteriors. We provided a competitive bid and honest assessment regarding which roofing materials would be the best fit for the structure and they chose to proceed with us. Due to our competitive pricing, they were even able to employ us for an additional project, replacing the wood shake on another building the congregation owned on the property.
A Durable and Beautiful Roofing Solution
For the new roof, we suggested F-Wave Synthetic Shingles for their extreme durability and their ability to withstand Boulder's winter snow and summer hail storms. F-Wave shingles are also able to beautifully mimic the look of slate, cedar shakes, and asphalt, but with additional benefits. Other types of shingles may be glued in layers that can delaminate over time, or if they are not nailed properly, can blow off during high winds. F-Wave Synthetic Shingles are low-maintenance and designed for both easy installation and high-wind performance.
The congregation's executive director chose F-Wave Hand-Split Shake shingles in Castlewood Brown. We also replaced the gutters on both structures. Our crew encountered some challenges during the project, including material delays, necessitating a change to the work schedule. Due to the interruption, we needed to do the bulk of the work during a month that included some important religious holidays, but we were able to work around the organization's schedule and keep the job site safe and clean, so as not to disturb the events and services that were already planned for congregants.
Expert Installation for Gorgeous Results
After the roof was installed, the leadership of the congregation was thrilled with the results. They loved both the refreshed appearance of their building's exterior and were pleased with Refined Exterior's expert roof installation process. A new roof is a major investment. When you choose to undertake such a massive project, you want peace of mind that the contractor you work with is knowledgeable about all prospective materials, will provide a competitive bid, and completes the project efficiently and professionally. Refined Exteriors' team takes pride in its craftsmanship, providing homeowners and businesses with a stress-free installation process with no surprise costs. We promise a finished project that you can be proud of. Contact us to schedule a consultation!
---
Project Gallery