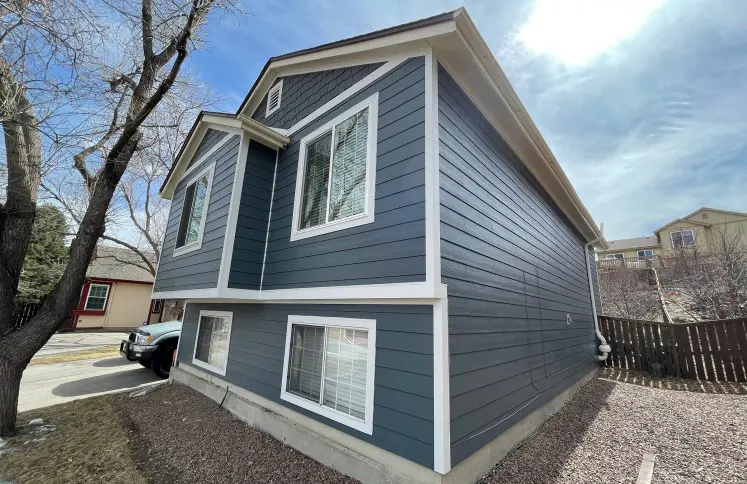 Window Sills and Wood Rot
We heard from a Littleton, CO homeowner who was concerned about their window sills. They noticed their wooden trim sills rotting from improper flashing, causing the window trim and siding to look worn.
Plus, the home was in desperate need of a paint job, and the homeowner wondered if a partial repair and repaint or full siding replacement was the right choice.
James Hardie Full Siding Replacement
After discussing the options with our homeowner, they decided to invest in their home with a full siding replacement using high-caliber, long-lasting James Hardie siding. They opted for James Hardie Lap siding in Evening Blue, highlighted by Arctic White trim and Iron Gray Shake accents that would show off the home's beautiful gables.
We utilized our rendering software to give the homeowner a detailed preview of these designs, and he ultimately was thrilled with the suggestions.
Besides the exterior facelift, why did our homeowner opt for a siding replacement with the pros at Refined Exteriors? After struggling with wood rot, new siding with pre-finished color greatly reduced maintenance and increased the home value — all at only a modest additional cost compared to patching the existing problem and covering it with a new paint job. They saw value in addressing the issues head-on instead of having to deal with worsening problems down the road.
A Stunning Transformation
After delaying our project by a day due to a snowstorm, we jumped in on the renovations. But we did still drop off a larger-than-needed dumpster so our homeowner could unload some unnecessary junk they had been holding onto for years!
Jon, Ben, and Marc worked with the homeowner to maximize the style and color of the home, working with professionalism and cleaning up as they went.

"They left the site cleaner than when they started. Whether it be an insurance claim from hail or other damage or you are simply wanting to upgrade the aesthetics while improving home safety and resale value, this is THE company to work with. I could not be happier with the experience and result!"
Refined Customers
Nothing means more to us than helping someone feel more at home.
We're dedicated to bringing this sense of purpose to every project we're lucky enough to be a part of.