Location: Evergreen, CO
Renovations: James Hardie Siding, Gutters
A couple had just bought their dream home in Evergreen, CO. Before they moved in, they had some concerns about the exterior of the home and possible pest damage. After being disappointed with several quotes from other contractors, they called Refined Exteriors. Upon speaking with Refined Exterior's friendly and well-informed siding experts, they knew they had found the right place to replace their home's siding. Jon, the owner of Refined Exteriors went to the initial meeting, and the homeowners were appreciative and impressed in his interest in their project.
During our consultation process, we provided them with multiple 3D renderings of their home, showing them the layout of the siding along with selected colors. Their goal was to modernize the home and bring it the "mountain character" that it deserved.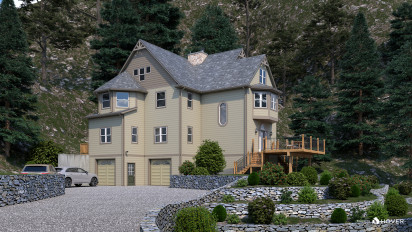 Top-Notch Siding Replacement
Refined Exteriors went above and beyond to ask about the housewrap and installation problems that came with the home. The couple was impressed with their information and fair pricing.
When Refined's installers got to the home, they instantly saw the problems with the old siding and housewrap installation and got to work repairing the rotten wood, installing new housewrap, and replacing the siding.
The homeowners decided on James Hardie siding. They chose Hardie lap siding in Woodstock Brown as well as HardieShake and Hardie Soffit and Fascia in Timberbark. The color combination provided a wonderful aesthetic for their new home and better matched the neighborhood.
The choice to use James Hardie siding along with new housewrap was a good one. Since Hardie siding is made from cement, sand, and cellulose fibers instead of wood, it is pest resistant. In addition, Hardie siding is virtually maintenance-free and fade-resistant, so the couple can enjoy the color and easy upkeep for years to come.
The couple also changed the gutters on the exterior of their home using Leaf Solution gutter guards. To help with their low-maintenance lifestyle, the couple also chose polyurethane gable brackets with a wood look.
We were able to complete this job through supply chain and weather issues to get the house successfully watertight before the worst of winter came!
A Low-maintenance and Worry-free Home Exterior
After Refined Exteriors fixed the siding problems and gave their home a fresh, new look, the clients couldn't be happier! Even though the height of the home and complexity of this project were a challenge, the homeowners were impressed with the way the Refined Exteriors team was able to complete the project on budget and on time. They have already asked us to come back to add siding and roofing to a new workshop they are building on the property
Refined Exteriors wants to help your home look amazing and fix any hidden problems. Contact us today for a free consultation!
---
Project Gallery