Fire-Resistant Siding Replacement for Evergreen, CO Homes
James Hardie fiber cement siding, installed by Refined Exteriors, is exceptionally strong and fire-resistant, making it an excellent choice for wildfire-threatened homes in Evergreen, CO.


As a member of the Evergreen community, you have all of the benefits of being close to Denver and the advantages of being near the mountains. In addition to an abundance of outdoor activities, this small but charming town nestled in the foothills of Jefferson County has culture, great food, and a plethora of annual festivals. Unfortunately, it is also under threat from the wildfires that are now encroaching on the western portion of the United States.
Your home's siding is prone to inevitable deterioration from age and exposure to the elements, but the last thing you want is to have your home destroyed by a wildfire. You need a reliable, fire-resistant siding option for your home. That's where Refined Exteriors comes in.
Beautiful, Fire-resistant James Hardie Siding
According to riskfactor.com, a searchable online tool to assess climate change risk in various locales, 15,302 properties in the 80439 zip code have some risk of being in a wildfire in the next 30 years. That means that Evergreen has more wildfire exposure than other homes in the Denver area. The Evergreen Chamber of Commerce is developing a wildfire mitigation program and Refined Exteriors, with its expertise with fire-resistant home exterior materials, is joining to help.
If your siding material is easily combustible, your home, its contents, and you and your family are vulnerable. At Refined Exteriors, we carry James Hardie fiber cement siding. This tough product is uniquely suited for locales at risk of wildfires. Here's why:
James Hardie siding is made of Portland cement, sand, water, and cellulose fiber to create an exceptionally durable, strong product.
Hardie siding is fire resistant and will not ignite when exposed to direct flame.
Hardie siding complies with ASTM E136 as a non-combustible cladding.
Besides the benefits of its fire resistance, Hardie siding is available in a wide variety of styles to complement any Evergreen home design! It's also easy to care for – simply power-wash it every few years to keep it clean.
Get a Trustworthy Siding Installation for Your Home
Refined Exteriors is recognized as a James Hardie Elite Preferred Contractor. Here's why that matters to you:
"We hired Refined Exteriors to install James Hardie siding and everyone we worked with was amazing. They were very personable, professional, honest, knowledgeable, and reliable! The crews worked in less than ideal weather at times and did a tremendous job. Especially when it came to removing the old siding and cleaning up at the end of each day. Needless to say, we were very happy with how the project went and would highly recommend Refined Exteriors to anyone looking for a siding or roofing contractor. I would give them 6 stars if that were an option!"

Scott B.
Homeowner

Featured Evergreen, CO Siding Project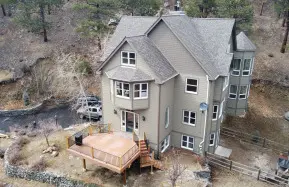 A couple had just bought their dream home in Evergreen, CO. Before they moved in, they had some concerns about the exterior…
Refined Exteriors – the Best Siding Company for Evergreen, CO Homes
Undoubtedly, Evergreen is a special place to live—from Evergreen Lake to Hiwan Heritage Park, it is home to breathtaking scenery and so much to explore. As a resident, you want to keep your home looking gorgeous and ensure you and your family are safe from the elements, especially wildfires.
As a local Evergreen siding company, Refined Exteriors prides itself on the relationships it builds with every single customer. With our exceptional customer service and premium siding products, including fire-resistant Hardie board siding, we are the right choice for Evergreen homeowners.
Contact us to schedule a consultation!