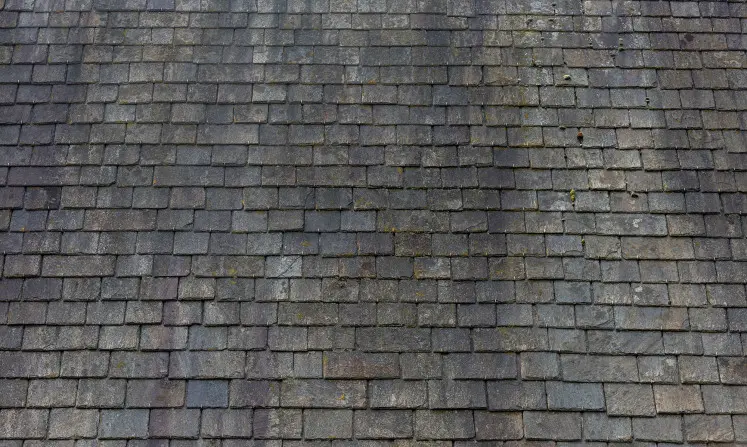 Over time, if your roof appears to have unsightly dark streaks on it, realize that it is hosting a living organism: algae. Gloecapsa Magma, a tiny organism, thrives in a shaded, warm, damp environment. It begins with a blue-green look, and as it builds up, it takes on a dark black hue on your roof.
Algae growth often starts at the rooftop and creates black streaks down your roof, hindering your home's curb appeal dramatically, and decreasing your property value. The look of the algae may not only bother you, but also your neighbors.
Algae isn't just a cosmetic problem though. Not dealing with algae growth can cause a host of problems, including having to replace your roof.
The Trouble with Algae on Your Roof
You deserve to come home to a place you're proud of, and algae growth on your roof not only looks bad, but also costs you.
Impacts Your Energy Bills
Your roof will absorb more heat with algae growing on it. The algae is darker than your original shingle color, so it actually blocks the reflective properties of your shingles. Summer heat will impact your home with greater intensity as a result. 
And your air conditioner will need to work a lot harder to keep your home at a comfortable temperature, so the algae will also cause it to wear out sooner.
Weakens Your Asphalt Roof Shingles
Algae grows on the limestone granules in your asphalt shingles. Over time, its presence weakens your shingles because it slowly consumes the limestone.
Algae also combines with fungus to produce an even more advanced life form: a lichen. This is sturdier, more destructive, and harder to remove than algae alone. Lichen growth leads to moss growth, and that spells trouble for your roofing system. 
Threatens the integrity of your roofing system
Moss puts roots into your roof both under and between your shingles, impacting the integrity of your entire roofing system. Moss absorbs water, and the extra moisture welcomes mold, mildew, and bacteria.
Denver winters can cause the moss roots to expand and freeze, resulting in cracks in and around your shingles.
You can avoid all these problems by installing synthetic shingles that resist algae growth.
How to Prevent Algae Growth on Your Roof
Avoid the costly, time-consuming process of hiring a team of professionals to clean your roof (due to algae growth), only to call them again every few years to pay them to clean it again.
Here are some simple tips:
Trim your trees—Limit the number of trees that border your home, and trim the trees closest to your roof to help prevent algae growth.
Eliminate standing water—When it rains or snows, your roof gets wet, but it should dry naturally and in a timely fashion. If there is any standing water on your roof, that's a welcome mat for algae to grow on your roof.
Repair your shingles, clean your gutters, and attend to any small repairs that arise—Helps you ensure there are no pockets of standing water on your roof.
Stop Algae Growth Before it Starts by Installing Synthetic Roofing Shingles
Durable, Algae Resistant Roofing for Your Denver Home
Traditional asphalt roofing shingles are the perfect place for algae to grow. Don't settle for the grim look of algae on your roof. Get gorgeous, algae resistant F-Wave Synthetic Shingles, and enjoy a stress-free, low maintenance roof that retains its beauty over the years. F-Wave stands behind its synthetic shingles by offering the WeatherForce Advantage warranty, covering damage from manufacturing defects for 50 years. 
Synthetic shingles from Denver's Refined Exteriors are the perfect solution to prevent roof algae. Click here to learn more about this superb roofing material on our synthetic shingles page.