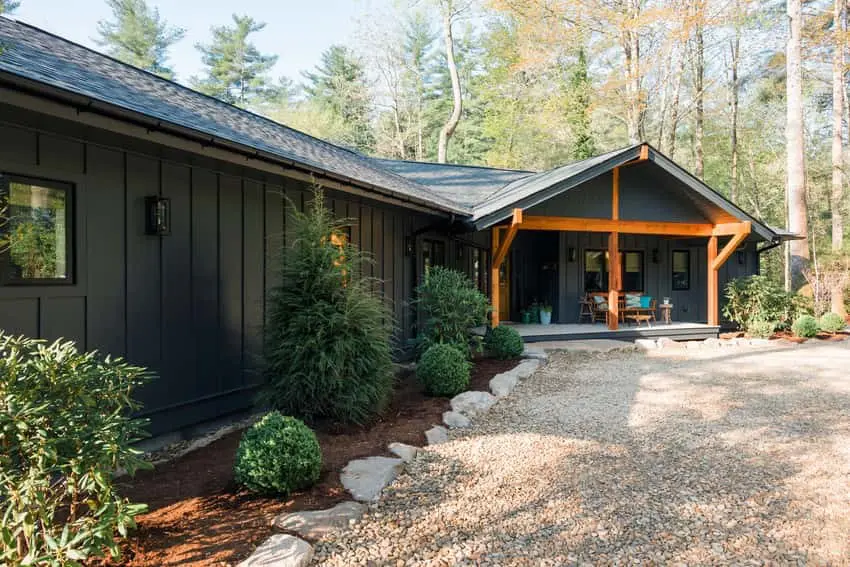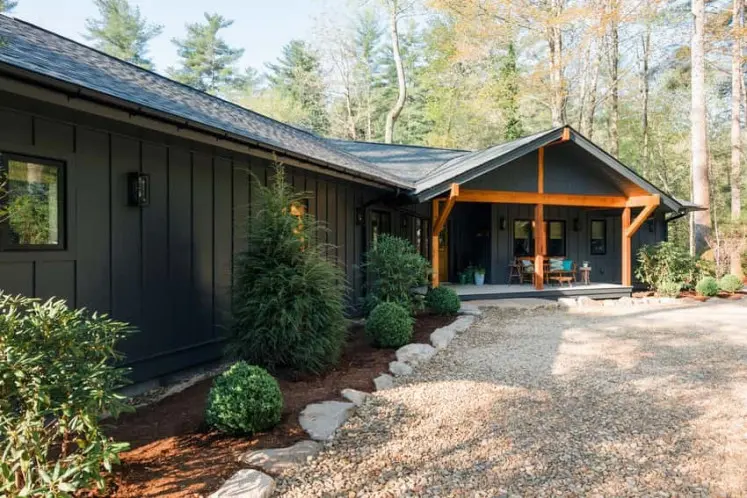 Bold, creative curb appeal is trending, and with it, homeowners are braving dark colors to give their home a modern rustic look. These deep hues make a statement. When surrounded by natural elements (like vibrant flowers, trees, and bushes) and mixed materials (like brick or stone), they give your home contrast and texture, and exhibit personality and zest.
There are a host of reasons to consider taking the plunge and choosing a rich, dark siding color—like black. You'd be surprised how great it can look with a pop of vibrant color highlighting its accents.
Here's why homeowners are becoming brave and choosing deep, rich hues for their home exterior—and loving it!
Trendy Dark Siding Colors Are Back!
Surprise! The forecast showed this would be happening, and as expected, homeowners are taking the bold step of painting the body of their homes with rich, deep, dark hues.
While contrasting light colors are to be expected as accents, you may even see a stream of slightly lighter hues of the same deep color as accents, creating a monochromatic look.
Which Dark Colors Are Trending?
Exactly which deep colors are your fellow homeowners turning to? Black—because it goes with everything (just like the black in your closet). Black has a classic look, and it's actually a neutral, so it looks pretty amazing with a vibrant pop of color on the door and shutters. Bold colors like deep reds, dark greens, and blues are also trending, creating visual interest and rich beauty on today's homes.
How to Get Over Any Hesitation in Choosing a Dark Siding Color
How is it that people are so confidently taking the plunge to go with a dark exterior color? The change begins with the variety of online tools that help you "try color on" your home at your convenience to see how it would impact curb appeal. People see what a difference it makes to do something dramatic, and they confidently (well, maybe they tremble a little at first) make the step to switch up their hue to something bold and dark.
Creative Components to Throw into the Mix When You Choose a Dark Siding Color
Contrasting colors that look good with deep, bold colors are usually light colors to balance or offset the deep, dark hues. Dark siding with high contrast accents creates an elegant color scheme that sets your house apart from others. Complementary light-colored accents help break up the large areas of a dark color, giving a balanced feel to the overall look of the house.
Visual interest abounds when stone or brick are thrown into the mix, and rich, lush landscaping pulls this amazing look together.
Benefits of a Dark Exterior Color
While light colors are a popular and safe choice, dark-colored exteriors can make your home stand out above the rest. When you decide on this daring style, like many other homeowners, we predict you'll be simply thrilled with the results—particularly if you have a home bordered by mature trees to frame the bold color.
Will Dark Siding Fade Too Quickly? It Depends.
In general, dark siding will fade quicker than lighter color siding on materials like wood. The neat thing is that if you choose James Hardie siding and get their ColorPlus technology (factory baked-on, colored boards), they actually won't fade like wood siding covered in even high-end black paint.
Does a Dark Exterior Make a Home Less Energy-Efficient?
Just as you find yourself hotter in the summer if you wear dark colors, your home will retain more heat from the sun when it is painted a dark hue. Lighter-colored home exteriors reflect more sunlight than darker shades, and with all the cold weather we have in Denver, that makes dark exteriors a great asset!
What About Upkeep for Dark-Colored Homes?
If your home siding is wood and you painted it a dark color, it will likely show blemishes more than a lighter color siding will show. You'll need to keep an eye out for any flaking or blistering because dark colors expand and contract more than lighter colors, causing blemishes that need to be repaired promptly so they don't blossom into bigger problems like moisture intrusion.
Your dark-colored siding may need more maintenance than light siding, depending on how much sunlight your home gets and how well it's shaded by trees (or not). But again, if you have Hardie siding on your home, it's actually warrantied for 15 years against chipping, flaking and peeling. So if you want a dark-colored home, and you don't want any extra maintenance, it pays to go with Hardie Board.
Does Dark Siding Make a Home Look Smaller?
If you're worried about your home looking smaller, simply apply the dark color to your property's lower portion, and use a lighter hue on the top. Dark colors suggest stability, style, and performance.
Color Never Looked so Beautiful!
You deserve the finest materials in your Denver home, and James Hardie fiber cement gives you extreme durability, outstanding weather resistance, and unmatched longevity. (How does up to 50 years sound?)
As certified James Hardie Preferred contractors, our Refined Exteriors team is trained by the manufacturer themselves to install your siding with precision and according to their strict standards, ensuring your 30-year warranty will be honored.
If you're thinking about what siding color you'd like for your home, see our James Hardie Colors page. Choose from Hardie's designer-picked color combinations that accent your home's top features with flair.