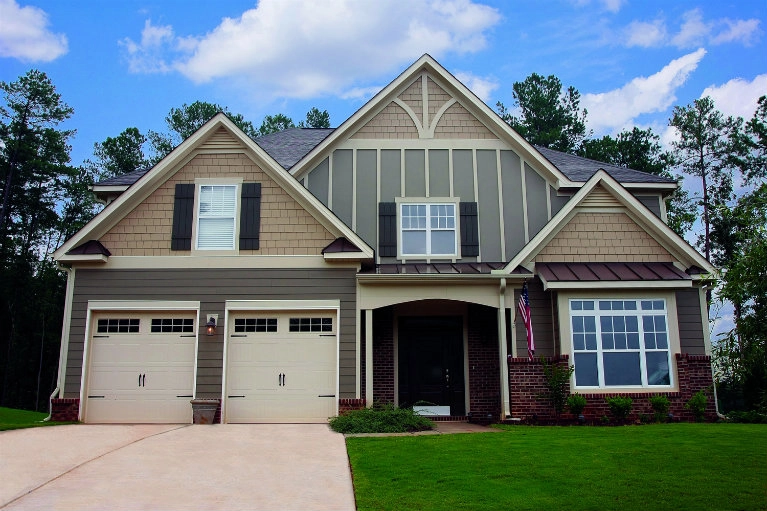 If you're building a new home or thinking of having some major renovation done to the exterior of your house to improve it or add value to the property for resale, then siding is going to be a fundamental choice you'll have to make. One of the more prominent choices in years past has been stucco, and there have been many practical reasons for this.
But now there's a new contender known as fiber cement siding, and it's been gaining a lot of the ground that stucco used to have. But why? Let's take a closer look at the two materials to see what's going on.
Stucco
Stucco is an older siding technique, but it has stood the test of time; in some cases, literally. Stucco is a siding process whereby a specific type of plaster is created through binding elements, sand, water and Portland cement. It is an older technique, having been in use for decades and, compared to brick or metal siding, may even be a little bit more expensive.
However, the biggest advantage of stucco is its durability. If properly applied, stucco can protect a home for anywhere from 50-75 years. It can be created with a unique, rough texture that gives a home a more natural appearance, and can even use more unusual techniques such as being covered in small stones for a very distinct appearance.
Fiber Cement Siding
Fiber cement siding is a much more recent development in the world of construction, and that means it brings new advances in materials research. As the name suggests, this is a form of cement, though it is also mixed in with about 8-10% wood fiber for additional flexibility and durability. While it is a cheaper siding alternative to stucco, it is still slightly more expensive than other more conventional siding choices, such as vinyl.
However, fiber cement siding brings with it a few advantages, such as a long lifespan and relatively low demands for maintenance. So how does it compare to stucco?
Customization & Moisture Resistance
In addition to being cheaper and just as durable as stucco, fiber cement siding is much heartier in one respect; moisture. Stucco is good under normal, drier conditions, but humid environments, or more rainfall than normal can affect the structure of stucco, eventually causing it to crack. Fiber cement siding, however, is quite resilient even in moist environments, to say nothing of dealing with a typical Denver winter!
The other unique characteristic of fiber cement siding is that it is formed in molds. This means that it can be created with any texture you desire. So if you want something that resembles brick, wood, or even a stucco texture, fiber cement siding can mimic it. It is also extremely friendly with paint, meaning that the right alkali paint can be applied to render your home in just about any color you imagine.
We Can Put It Up For You
If you're interested in getting fiber cement siding applied to your home, we can help! Refined Exteriors has the experience, tools, and know-how to quickly assess what your home will need in order to make the most of fiber cement or any other siding you might be interested in. Contact us to schedule a free siding installation quote today!