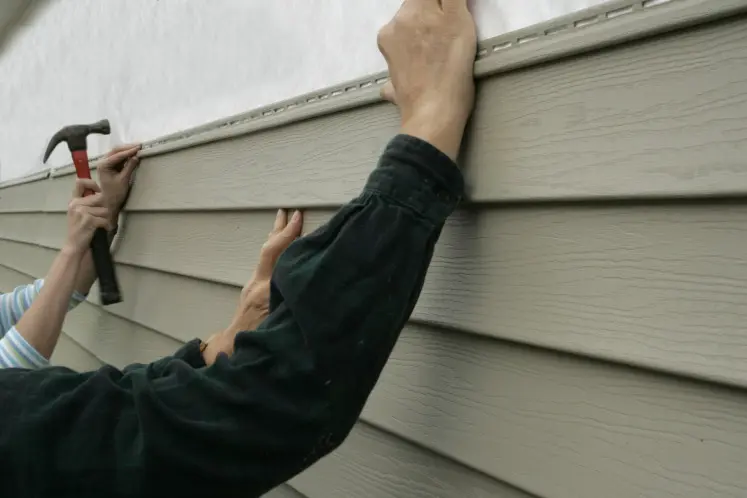 DIY enthusiasts may easily conquer many facets of home improvement, but there are others that should be left to experienced professionals. Expert methods, specialized tools, and experience (fitting siding around your windows, doors, and more) all factor into a proper siding installation.
While it may be cheaper in the short term to do your siding yourself, many factors make this choice unideal. When it comes to DIY siding installation vs. trusting the pros, it's vital to weigh the risks and the benefits before moving forward. 
DIY vs. Hiring a Siding Contractor
The trouble with DIY siding installation
You may desire to install your siding yourself, but it takes both knowledge and experience to do it right. Unfortunately, a DIY siding installation can do more harm than good. You might even make mistakes that are so hard to fix that you have to hire someone to fix them! 
DIY siding installation includes a higher chance of accidents (these are typically ladder related), physical injury, and unexpected costs (and hassles!). 
DIY may void your siding warranty
One of the riskiest consequences of choosing to install your own siding is that some companies (like James Hardie) won't honor their warranty if you install siding yourself. Yikes! That's a huge loss for you if you ever needed it! 
Lacking the specialized tools needed to install siding properly
Siding installation is a distinct process that requires the right tools to do it properly. If you choose the DIY route, you'll have to acquire all the tools needed for cutting, fitting, and installing.
Some tools needed include a hammer, saw, square, chalk line, and tape measure. You'll also need a utility knife, power saw, tin snips, a level, and a good ladder. Other (expensive) specialty tools include a snap lock punch, a nail hole slot punch, and an unlocking tool. These tools are a significant investment, and you likely won't be re-siding your house again for years! 
It may cost you more time and money
When you are not experienced at something, you can make mistakes and not even realize it. If you don't seal your home well by installing siding properly, you compromise its protective layer. As a result, you may end up with costly moisture issues, mold, rot, and pest infestation. Choosing to install your siding yourself may actually cost you more in the long run. 
You risk losing your siding's high performance
Siding material is engineered to safeguard your home from the elements 24/7. You expect its performance to be high. The problem is that if you install it yourself and make mistakes, it may not do what it was designed to do, and you'll have to clean up the mess as a result. 
The added costs of re-installing siding if not done properly
DIY comes with its risks. If you install your siding so poorly that you have to hire a contractor to re-install it, you're piling up more costs than you bargained for! 
Benefits of Hiring a Siding Contractor
When you "do it right the first time," you're never disappointed! Hiring a reputable contractor to re-side your home is a wise choice. Here's why: 
Your work will be done quicker
Professionals are efficient, and your siding installation will be completed in a more timely fashion when you hire a siding contractor. A team of professionals will work simultaneously on your siding project, and you'll get a seamless (painless) transition to your beautiful exterior. 
Your siding warranty will be honored
Warranties give you peace of mind that your investment is covered in case of any problems that arise over the years. Siding lasts a long time, so it's helpful to have a good warranty!
Companies like James Hardie include a 30-year warranty with their siding as long as it is installed by a James Hardie Elite Preferred Contractor (like us!). The confidence you get in knowing you have a stout warranty that will be honored if it is ever needed makes it worthwhile to have your siding installed by a contractor. 
Siding contractors are experienced in best practices
Siding replacement contractors are licensed, bonded, and insured. You get legal protection by signing a contract. They have expert knowledge and experience in all aspects of siding installation. 
Siding contractors provide full service, from helping you select the best siding material for your home to preparing your home exterior for siding installation, and providing a thorough clean up so no one gets hurt on a stray nail. Siding pros will do the legwork needed to obtain any necessary permits and abide by building codes. 
You can rest at ease that your siding will be properly placed, and all the finishing touches will be complete when you hire a reputable, certified siding contractor. The bottom line…it's worth it!
The right tools will be used
Siding contractors won't cut corners when it comes to installing your new siding. They have invested in the proper tools to use for each step of the process so you get the optimal results you deserve. 
Get Superior Siding Installation for Your Denver Home
Unfortunately, some contractors switch out or substitute products and use inferior ones. This eventually costs you as a homeowner. At Refined Exteriors, we build using whole systems (GAF, James Hardie) whenever possible. That means every product used on your home has been engineered and tested to bring maximum value and strength to your home. 
Learn more about how our siding services can bring out the beauty in your Denver home.