Hardie Board Siding For Your Denver Home
When you're ready to upgrade your home's exterior, James Hardie siding is one of the best siding products for Denver, CO homes. Its versatility, superb quality, and variety of colors and styles give homeowners long-lasting performance and attractiveness. As an experienced siding contractor of Hardie siding installation in the Denver area, Refined Exteriors provides you with excellent workmanship and quality siding that stands up against the weather in Denver.
James Hardie Siding Colors & Styles
Boost your home's value and curb appeal without sacrificing style. James Hardie siding is a versatile option that can be customized to fit your needs. Hardie siding offers a wide variety of styles that coordinate with popular home styles found in Denver neighborhoods, such as the Craftsman, Victorian, Ranch, Tudor and even the historical Denver Square styles.
HardiePlank Siding
HardiePlank Lap siding is not only our best-seller — it's also America's most popular siding earning the Good Housekeeping Seal and is an excellent option for your home siding.
HardiePanel Siding
HardiePanel vertical siding combines durable performance with a great price. HardiePanel and HardieTrim are often used together to give homeowners the popular board-and-batten look.
HardieTrim Boards
Add that final professional touch by accentuating doors, windows, gables, and corners with HardieTrim. It's a great way to introduce colors to create customized exterior design.
HardieShingle
HardieShingle gives the appearance of cedar shingles without the issues common to natural wood products such as rotting, splitting, and cracking.
Hardie Artisan Siding & Trim
The unique features of extra thick boards with deep shadow lines found on James Hardie's Artisan lap siding and trim create dramatic detail and dimension. This combo adds gorgeous curb appeal to your home's siding.
HardieSoffit
These panels are factory-primed fiber cement that protect your home by covering the gap between the underside of your roof eaves and exterior wall. You can choose from vented and non-vented smooth & cedarmill styles, as well as many pre-cut sizes.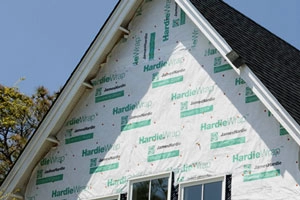 HardieWrap Weather Barrier
Provides your home a breathable, water-resistant barrier that keeps your home dry by allowing water vapor to escape.
Denver's Trusted Siding Brand – James Hardie
In a word, James Hardie is a trustworthy, superior siding that is easily adapted to the needs of any home. It lasts for years and maintains its good appearance over time, making it an excellent value for your money. When you choose James Hardie siding, you'll enjoy a home that looks sharp and attractive for years to come, giving you both a sense of pride and peace of mind.

"Refined Exteriors did a great job fixing our siding. Not only did they match the color and type of siding, they did it quickly and efficiently. They also kept us updated every step along the way and got the job done quickly. I am a very satisfied customer and will most certainly be using them in the future!"
-Allison A.
Need Help With Financing?
We've partnered with select lenders to help you with all your home's exterior remodeling needs
Good HouseKeeping Seal of Approval for Hardie Board Products
After completing rigorous product evaluations, The Good Housekeeping Research Institute gave James Hardie Siding their seal of approval. The engineers at Good Housekeeping tested Hardie siding for weather, water, fire resistance, and more using state of the art equipment.
Schedule a Consultation Today
Let the professional, experienced team of siding experts at Refined Exteriors help you care for your home's exterior needs in the greater Denver area.
Click the link below or call us today at (720) 360-1611 to schedule your free, no-obligation estimate.