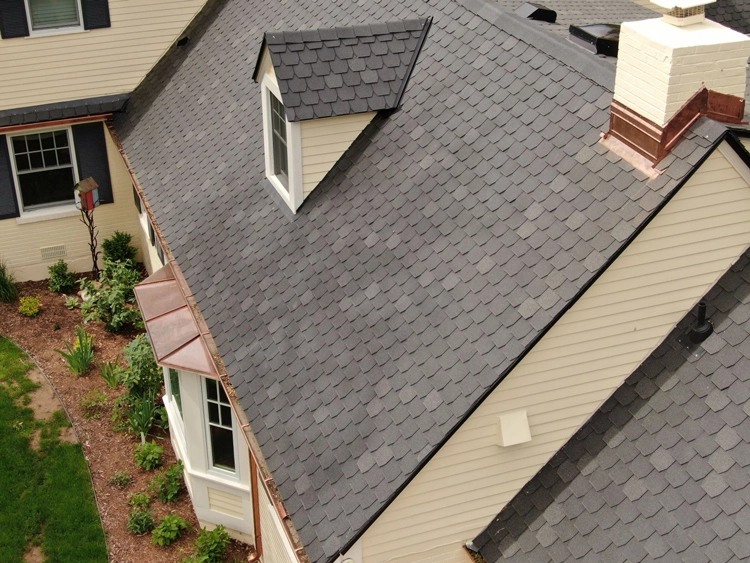 You may have started thinking about sprucing up your home for the approaching spring season. When the time comes for your annual spring cleaning, you may notice shingle granules in your gutters or on your lawn. The presence of shingle granules around your home is usually a sign that you need a roof replacement.
Here is why you might find asphalt shingle granules in your gutters, and what F-Wave synthetic roof shingles from Refined Exteriors can do to help.
What Causes Shingle Granules to Appear?
If you find shingle granules in your gutters, don't panic. Depending on the circumstance, shingle granules are not always a cause for concern.
If your roof is relatively new or your home just endured a storm, it is common for your shingles to experience granular loss. Since shingles are composed of thousands of these tiny granules, it is not uncommon to shed a few.
However, if your roof is aging and you are noticing an excessive amount of granules in your gutters, on your lawn, or even in your driveway, you may need a roof replacement. When your roof ages, the shingles begin to erode and the granules fall off. This can be caused by harsh weather, a branch rubbing against them, or even mold and debris.
What Happens When My Shingles Lose Granules?
Your roof is more vulnerable to the elements once shingle granules are removed. The impact of a storm has the potential to create leaks inside your home, and gutters filled with granule debris can cause flooding that will deteriorate the foundation of your home over time.
Asphalt shingles are also more likely to bend, crack, or break due to sun exposure or impact once granular loss occurs. The granules on your asphalt shingles are essential in securing the integrity of your roofing.
Traditional Asphalt Shingles vs. F-Wave Synthetic Shingles

Once you decide to invest in a roof replacement, it is important to choose a product that will ensure the integrity of your roof for years to come. Although many homeowners tend to lean toward traditional asphalt shingles, granular loss will continue to resurface as an issue in the future.
Instead of worrying about the loss of shingle granules and the roofing problems they cause, why not do away with them altogether? F-Wave REVIA synthetic shingles are an innovative roofing product made without asphalt, ensuring your roof will not lose any shingle granules while still providing optimal performance. F-Wave synthetic shingles also provide these excellent benefits:
Impact-Resistance
With a Class 4 impact resistant rating, 130 mph wind rating, and Class A fire-rating, these shingles are engineered to outlast all other shingles on the market.
Longer Lifespan & Warranty
You won't have to worry about cleaning shingle granules out of your gutters after your synthetic shingles are installed and they are covered by a 50-year warranty.
Get Rid of Granules in Your Gutters for Good with Synthetic Shingles From Refined Exteriors
Your roof should be beautiful, durable, and low-maintenance — all qualities that are offered to you by F-Wave REVIA synthetic shingles. At Refined Exteriors, we want to give you peace of mind in a job well done by providing professional, superior service at an affordable price.
To see what your Denver home could look like with F-Wave REVIA synthetic shingles, visit our photo gallery to see the homes of our happy customers!