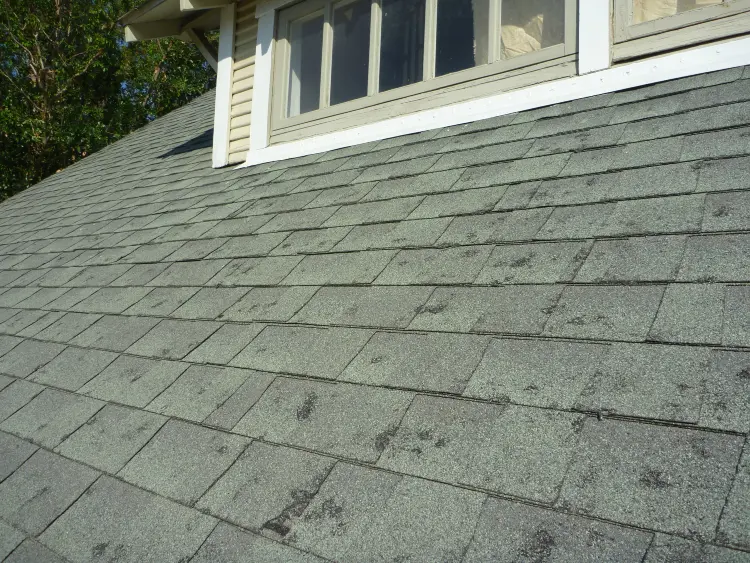 Denver homeowners are no strangers to hail storms. In fact, Denver is the second-highest city in the United States to experience hail damage, with over 51,000 claims filed between 2017 and 2019.
Even though storms can damage your siding, windows, or gutters, the part of your home that is most vulnerable to hailstone destruction is your roof.
Since hail storms can occur anytime between April and September, you might be concerned about protecting your home with reliable hail-resistant shingles before the spring season begins.
Look no further than REVIA F-Wave roofing shingles for the most impact-resistant roof on the market. Not only will F-Wave shingles guard your roof against hailstone damage, but they'll add unbeatable beauty and durability to your Denver home when installed by Refined Exteriors.
Effects of Hail Damage
Did you know hailstones can range in diameter from the size of a pea to the size of a softball? Even though small hailstones might not have a drastic effect on your shingles, larger hailstones can wreak havoc on your roofing system.
Here are some common effects of hail damage to your roof:
Missing granules that can accumulate in your gutters
Cracked or broken shingles
Dents on the shingles, flashing, or gutters
Large bruises
Whether you are looking to replace your shingles that have already been damaged or protect your roof from storm destruction in the future, hail-resistant shingles are an excellent investment to guard your home from expensive storm damage.
What Is a Hail-Resistant Roof?
You might be wondering what makes a hail-resistant roof different from other types of shingles. A storm-resistant roof must meet these two qualifications:
Engineered Material
Hail-resistant shingles are typically manufactured with a styrene-butadiene-styrene asphalt formula, also known as rubberized asphalt. This material helps the shingles to withstand storms effectively.
Class-4 Impact Resistant
For a roof to be rated as Class-4 impact resistant, it must endure the UL-2218 impact test, which is the industry standard for testing shingles against hail impact. Currently, the UL-2218 is the highest impact resistant rating.
This test mimics a large hailstone's impact by dropping a two-inch steel ball from 20 feet above onto the shingle. The shingle is offered a Class-4 rating if it does not crack or break.
Is a Hail Resistant-Roof Worth the Cost?
Even though hail-resistant shingles are more costly than traditional asphalt shingles upfront, they offer many benefits in the long run. A hail-resistant roof will save you time and money on roof maintenance and can eliminate the need for roof replacement after large, destructive storms.
Impact-resistant shingles are especially worth purchasing for Denver homeowners. Damaging Colorado hail storms happen often and are difficult to predict. Additionally, many insurance agencies will offer discounts to homes with hail-resistant shingles—an excellent benefit for homeowners.
Advantages of F-Wave Synthetic Shingles
REVIA F-Wave synthetic shingles are the perfect choice for a reliable, hail-resistant roof replacement.
Here's why you'll love F-Wave synthetic shingles:
Class-4 Impact Resistant
F-Wave shingles pass the UL-2218 and FM-4473 tests, which means they have the highest hail-resistance rating and can withstand maximum impact.
They are warrantied to withstand damage from hailstones that are two inches in diameter or less. For reference, two inches is about the size of a standard pool ball!
130-MPH Wind Warranty
This roofing system can stand up to strong winds and has passed the ASTM D3161 and D7158 tests to earn a Class F and Class H rating.
F-Wave shingles are guaranteed to withstand wind speeds up to 130 mph for 15 years from the original purchase date.
Class-A Fire Rated
F-Wave shingles can stand up during hail storms, but they can hold up during a fire, too. They have earned the highest fire-resistance rating determined by the ASTM E108 and UL790 tests.
Excellent Warranty
REVIA F-Wave hail-resistant shingles have a fantastic warranty. Once your roof is installed, you can be confident that it will be well-cared for in the years to come.
Maximum Durability
F-Wave shingles are made from engineered materials, so you won't have to worry about asphalt or granule loss, which decreases the durability and life expectancy of your shingles.
REVIA F-Wave Hail-Resistant Warranty
F-Wave is confident that its synthetic shingles will stand against wind and hail damage. They offer homeowners with an unbeatable WeatherForce™ Advantage Standard Product Limited Warranty to give you peace of mind about your roof for years to come.
The WeatherForce Advantage Warranty includes:
50 years of warranted coverage
15 years of non-prorated material and labor coverage against manufacturing defects
15 years of non-prorated coverage for 130-mph wind resistance
5 years of non-prorated coverage for Class-4 hail impact resistance
Limited coverage for algae and color fade resistance
Invest in Hail-Resistant F-Wave Shingles for your Denver Home
You shouldn't have to worry about the state of your roof every time a hail storm pummels your Denver neighborhood.
Allow our team of roofing contractors at Refined Exteriors to put your mind at ease with a reliable, stress-free installation of F-Wave Revia hail-resistant shingles.
You'll not only save money on maintenance, storm damage repairs, and shingle replacement, but you'll know that your roof is backed by an industry-leading warranty.
Read more about how a roof replacement with F-Wave hail-resistant shingles can add beauty, durability, and longevity to your Colorado home.