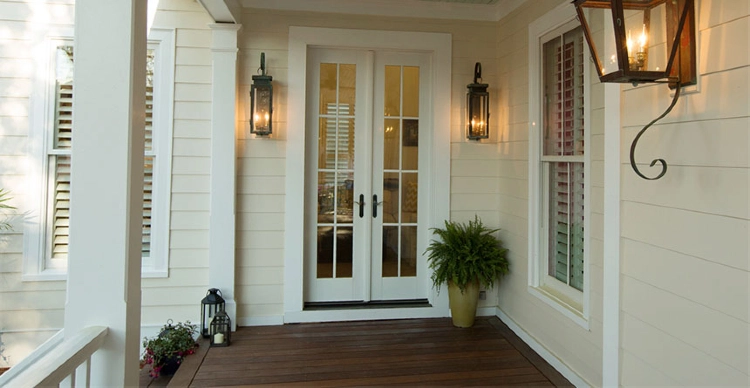 Siding comes in a variety of materials and styles. Common options include James HardiePlank lap siding, Mastic vinyl siding, wood, Versetta stone, LP Smart siding, and stucco siding. Each material has its pros and cons, with a hefty list of pros when it comes to James Hardie siding. Denver Homeowners love this siding with its outstanding durability, beauty, warranty, and more.
Popular Siding Styles
Once you choose which material you plan to use to side your home, it's time to decide what style will best complement your home. Here are some popular siding styles:
Lap Siding—HardiePlank lap siding, the most popular lap siding in America, sets the standard with a host of colors and textures to highlight your home exterior with a classic look.
Vertical Siding—HardiePanel gives you sleek, modern design. Combine with HardieTrim for a board-and-batten look with cottage charm.
Trim—HardieTrim adds accents to your design with durable, low-maintenance trim that is perfect for doors, windows, and more.
Lap Siding Defined
Lap siding is a flat siding made of long boards that overlap each other, hence the name "lap" siding. It was originally only made of wood, but it's now available in fiber cement, vinyl, engineered wood, and wood. It can also be called clapboard despite the fact that it's made of larger boards than clapboard. When lap siding is installed, it forms a reliable protective barrier between your home and the weather. Lap siding is installed horizontally on your home and comes primarily in two different styles:
Traditional lap siding—Flat narrow boards with a curvature on the bottom that creates an attractive shadowing effect.
Beaded lap siding—This siding contains a thicker bead at the bottom of each piece and offers a smooth finish inspired by coastal communities.
The beauty and popularity of lap siding
Lap siding is gorgeous and popular. It's simple to pair it with other siding types and building materials to achieve the perfect exterior design for your home. It accents stucco, stone, and brick quite nicely and creates a stylish look for your exterior.
15 Benefits of Lap Siding
Since James Hardie fiber cement lap siding product—HardiePlank—is the most popular siding product in America, let's take a look at this particular material's many benefits.
1. Easy Repairs
Repair lap siding with ease because if trouble occurs on a plank, you only have to remove the damaged plank, making repairs and replacement simple. It's easy to repair, making it an affordable long-term siding product.
2. Pleasing Aesthetics
Enjoy eye-catching curb appeal you'll love coming home to.
3. Outstanding Warranty
Get peace of mind from the James Hardie fiber cement outstanding 30-year, non-prorated, transferable warranty.
4. Lasting Makeup
Gain confidence in your home's durability due to the strong makeup of fiber cement lap siding. Its makeup of cement, sand, and cellulose combine to give you a strong, durable siding you can trust.
5. Winning Combinations
Express your sense of style with the perfect blend of lap siding and other materials such as stone or brick.
6. Attractive Accents
Use lap siding to accent your home's best design features.
7. Minimal Maintenance
Expect particularly low maintenance because it's so well made. Simply clean with a garden hose and medium nylon bristle brush twice a year.
8. Energy Saving
Improve your year-round energy savings with insulating lap siding.
9. Pest Resistant
Skip the hassles of pest infestation such as carpenter ants or termites with pest resistant James Hardie fiber cement lap siding.
10. Lasting Color
Experience color that lasts with UV resistant, factory baked-on color from trustworthy James Hardie's ColorPlus technology. Warrantied to last 15 years, this fade resistant color will keep your home looking fabulous.
11. Smart Investment
Increase your home's resale value with a wise investment in lap siding.
12. Green Siding Choice
Fortify your home with sustainable fiber cement lap siding, a greener option than vinyl siding.
13. Customization Options
Customize your color option with delightful hues from a palette that pleases.
14. Reliable Durability
Protect your most valuable asset—your home—with durable lap siding you can rely on.
15. Extreme Popularity
HardiePlank lap siding protects over 8,000,000 homes in America. Residing your home with this beautiful siding gives you an advantage when it comes time to resell your home.
Denver homeowners understand the importance of strong siding due to the need to stand up to severe weather each winter. In fact, lap siding is perfect for Denver homes, and seen commonly on several home styles in the area such as Craftsman, Bungalow, Victorian, and more.
If you're looking for the perfect siding for your home, consider James Hardie fiber cement lap siding. Its clean, charming look boosts your home's curb appeal and resale value. You simply can't beat the reliability of James Hardie fiber cement lap siding, and its industry leading 30-year warranty will give you lasting confidence in your investment.
Love Coming Home Again
Overwhelmed with the host of siding design options, colors, and materials? When it's time for replacement siding, it's not easy to sift through the array of selections. At Refined Exteriors, we understand how stressful it can be to have a faulty home exterior. We've developed a simple process to educate you on siding options so you can make the best choice for your needs and budget. We're here to help make your dreams become reality, so you can love coming home again.
Refined Exteriors—a Reliable James Hardie Elite Preferred Contractor
The siding material you choose to have installed on your home is equally important as who you hire to install it. We are a James Hardie Elite Preferred Contractor, meaning we've been trained in the high reliability installation standards established by the James Hardie company. When you need to look into a siding replacement for your Denver home, schedule a free, no obligation consultation with us!